Every child has the right to quality early childhood education. When we value these rights, it compels us to provide learning in an environment based on high-quality pedagogy. Reflecting on our teaching strategies in early childhood is crucial to improving pedagogy.
When we question the purpose of education and explore early childhood contemporary approaches, we promote the benefits of learning rather than a one-size strategy that fits all. At Petit Early Learning Journey, our teaching teams routinely engage with contemporary teaching approaches.
Early childhood learning has historical roots that we can trace back to the time of Martin Luther in the 1500s. Since then, several teaching theorists have devised different approaches to early childhood teaching but all working towards the goal of successfully developing children.
In this article, we invited two of our centres, Petit ELJ Burdell and Petit ELJ Kew to discuss the importance of early childhood contemporary approaches. In particular, we discuss:
Contemporary approaches visible within our centres
The relevance of understanding different teaching approaches.
Teaching strategies in early childhood as one aspect of pedagogy.
Early childhood teaching approaches
The Early Years Learning Framework (EYLF) reflects several contemporary approaches that Petit ELJ supports through its philosophy and the practises it embraces. It also encourages Educators to draw upon a range of theories and methods to challenge traditional ways of seeing children.
A few of the early childhood teaching approaches that Educators practice and critically reflect on include:
The Reggio Emilia Approach
"This teaching strategy is one of the more popular contemporary early childhood teaching approaches shaped by Loris Malaguzzi, an Italian psychologist and Educator, that we reflect on and integrate into our practice," says Stephanie Simopoulos, Centre Director at Petit ELJ Kew.
The Reggio Emilia approach believes children have many ways of communicating (100 languages) and classrooms that support this approach are known for their natural and found materials.
Jerome Bruner's Theory of Learning
Bruner's teaching approach views children as active learners who construct their own knowledge of the world. It's a view shared by other theorists such as Piaget, and it is embedded in Petit ELJ's Beliefs that Every child is capable, resourceful, and a constructor of their own knowledge.
Bruner, influenced by the work of Vygotsky, also introduced the term of scaffolding (often attributed to Vygotsky). Bruner's concept of scaffolding believes children need help from Educators when they begin to learn a new concept but that this support can gradually fade as they acquire new skills and knowledge.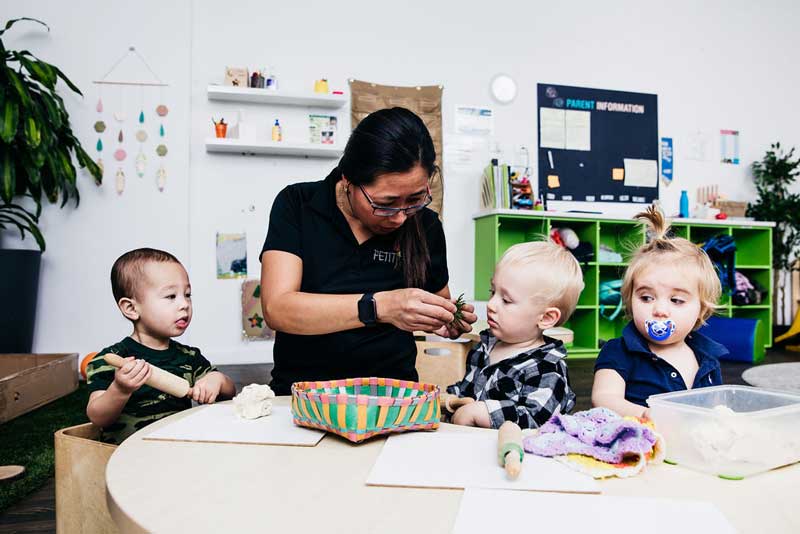 Vygotsky's theory (ZPD)
Vygotsky's contribution to early education teaching includes the Zone of Proximal Development (ZPD). It supports three principles:
Presence of someone more knowledgeable than the learner.
Social actions with an Educator with whom the learner can observe and practice their skills.
Supportive activities led by the Educator (Scaffolding).
Helping children to become self-regulated learners is at the heart of the ZPD.
The Montessori approach
Dr Maria Montessori developed the key concepts to the Montessori approach in the early 1900s which consider children's sensitivity to language, movement, order and sensory input at specific developmental stages.
The Montessori approach is also associated with the term "Prepared Environment" which encourages child-centred learning in an environment where Educators prepare materials and activities based on a child's interest and development.
Piaget theory and play-based learning
Jean Piaget, a french psychologist, constructed a theory of cognitive development which while he did not link directly to education has been influential in developing educational policy. His ideas applied in the Plowden Report (1967) by the Central Advisory Council for Education (England) lead to the rise of:
Learning by discovery.
Individual learning.
Flexibility in the curriculum.
The centrality of play in children's learning.
The use of the environment.
Importance of the evaluation of children's progress.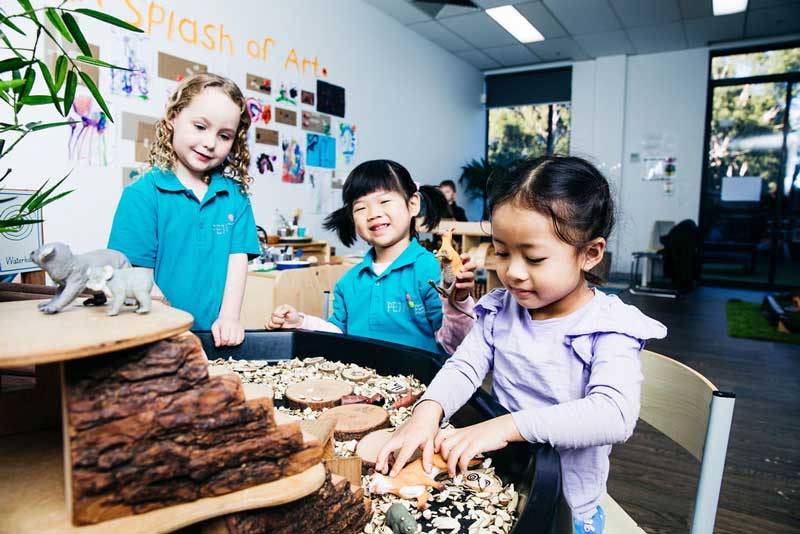 The relevance of different teaching approaches
The influence of the Reggio Emilia approach, Montessori's prepared environment, Vygotsky's social-cultural theories, the psychological theories and ideas that arose from Piaget and Bruner are all evident in the EYLF.
"Our centre utilises different elements from many theorists and approaches," says Katie Gudge, Centre Director at Petit ELJ Burdell. "In particular, our teaching practices and environments are influenced by the environment as the third teacher, scaffold learning and being responsive to children."
"Quality care and practices are evident and fluent across the Burdell centre. We create secure relationships by knowing each child and meeting their individual needs by being responsive to their learning. Educators work in partnerships with families and children to create a home away from home in the learning environments."
"We collaborate with parents to gain an understanding of child-led interests at home so that we can support children's learning in Petit ELJ environments."
"We are slowly creating an environment here at Kew, that helps children become more independent and encourages them to take responsibility for the world around them. Children have access to supplies, learning and materials, and are encouraged to self-direct their learning."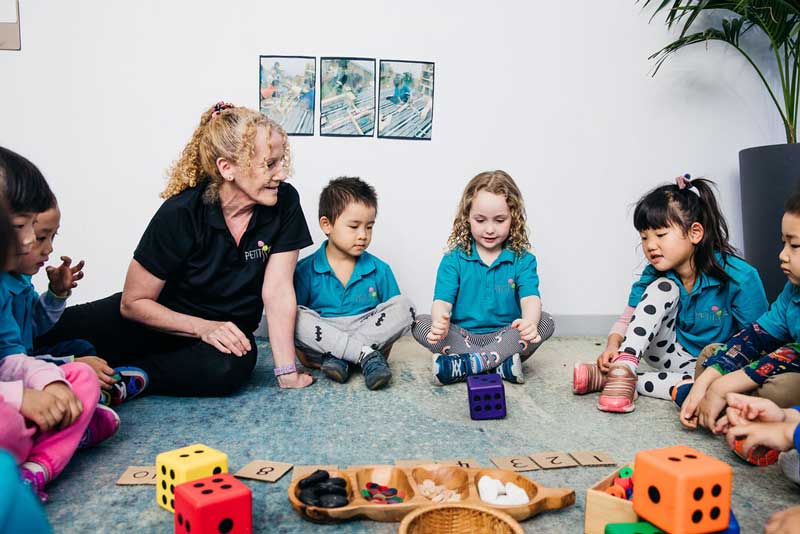 Teaching strategies in early childhood education as one aspect of pedagogy
Stephanie views the teaching strategies of early childhood contemporary approaches as one aspect of pedagogy. "Pedagogy also draws on other factors such as experience, evidence from practice, reflection, community expectations, the needs of our children and positive relationships with their families to develop our curriculum."
"We believe that children come with no predispositions. We guide them with our hands-on approach to extend their capabilities, development, motivations, purpose, and agency."
"This approach emphasises child-driven experiences with our team scaffolding them to succeed, supporting a self-guided curriculum that uses self-directed and experiential learning."
"Our aim and centre goal for the year for Petit ELJ Kew is to continue to build strong connections with our wider community and strengthen our already secure and reciprocal partnerships with families."
For Educators to nurture their community relationships, they need to understand the theories behind their curriculum decisions. Through collaboration and reflection, Educators can benefit from a deep understanding of how these approaches relate to the EYLF and how they apply to individual contexts.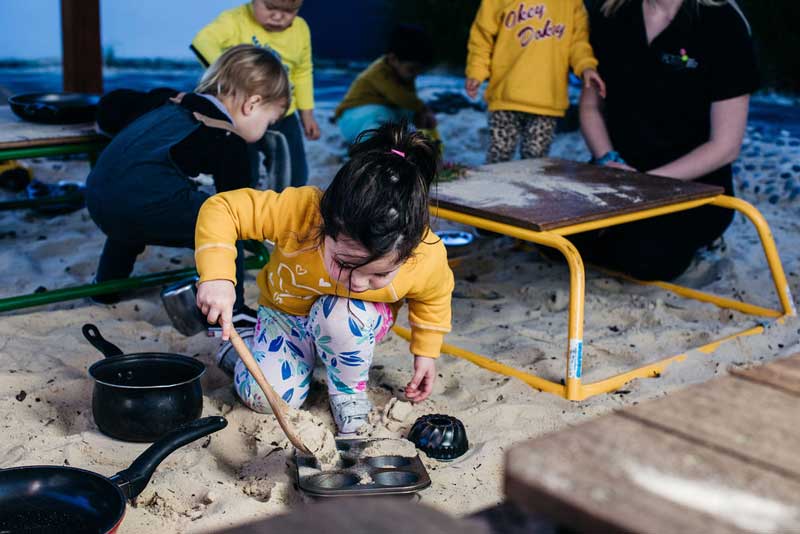 Enhance your career with Petit Early Learning Journey
At Petit ELJ, our teams engage in contemporary teaching approaches and reflection every day. We have a genuine interest in early childhood pedagogy with regular collaboration between our studios and centres. Our teams are genuinely passionate about professional development.
We like to question conventions and support original thinking and discovery in our Educators. Be recognised for your hard work with a fulfilling career and access to the latest resources, training courses and programs. Take your early childhood career to the next level.